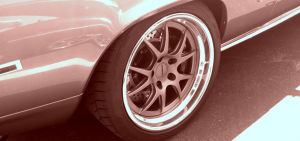 Garage40 is a digital marketing and community management agency with a strong background in the automotive aftermarket world. We specialize in strategy, planning, integration, and maintenance of social media and digital marketing efforts to help deliver results in an ever changing online landscape. Simply put, we bridge the gap for clients to help them reach their target audience online so they can focus on running their business.

Most Aftermarket Shops Get It All Wrong
Most small businesses in the automotive aftermarket FAIL when it comes to social media. They post sporadically and usually do nothing but promote their products and services – a practice that turns off potential customers and results in reduced followers. It's obvious they don't understand how social media works for business. Having spent over a decade working with small businesses in the automotive industry, it's clear that most shops don't have the time, resources, expertise, or desire necessary to do social media effectively. Some shops will have the same guy who enters products on their website do it for them – or the owner is doing it themselves. That almost never produces results.
Whether it be Facebook, Instagram, Twitter, LinkedIn, enthusiast forums or any of the countless other platforms, we can help you come up with an effective strategy that actually brings in more business. We also help you set realistic goals, create and/or optimize your online profiles, engage your customer base, identify new opportunities, and grow your brand's exposure and image online to help achieve the vision you have for your business. The key is testing strategies and finding the right mix that delivers the expected results.

We Know How to Speak "Gearhead"
We are passionate car enthusiasts that speak the language and understand your target audience. We give you the ability to focus your expertise and your passion on your business. The going rate for an experienced social media marketing professional or digital marketing pro can be pricey. Before you go out and hire an experienced full time employee to manage this aspect of your business, send us a note and see if we can help you at a fraction of the cost!

About Chris Raymond
I'm an avid car enthusiast, and have been for more than 30 years. Growing up in northern California likely had a little to do with this, given the region's legendary car culture and seemingly endless scenic roads. It was clear early on that I was going to find a way to make my passion more than just a hobby.
The first break came in the late 90's after finishing up a graphic design course and started deciphering website source code to learn how to build websites. I landed my first web job in 1998, where I built and managed an automotive research website, along with a few other websites in the company's network. It was there I learned the power of SEO, community management, content marketing, and networking (and countless other lessons). It also opened my eyes to the ridiculous potential of the internet and I was bitten by the entrepreneurial bug.
Since then I've built and managed several online automotive communities, launched a few business ventures, worked with a multitude of passionate small businesses owners in the automotive industry, walked miles upon miles of SEMA trade shows, raced in the 24 Hours of Lemons series, competed in Time Trials events, volunteered as an instructor for NASA (National Auto Sport Association), and have found countless ways to immerse myself in my passion while making a living. When you do what you love though, it isn't really "work" is it?
I now spend most of my time helping those who aren't very internet savvy find ways to leverage the web to grow their business – and I particularly enjoy helping business owners who share my same passion for (or addiction to) cars. I'm a regular at the local Cars and Coffee events in the Sacramento area and I volunteer my time with Dreams and Drivers, a local charity car club.